Cooling Towers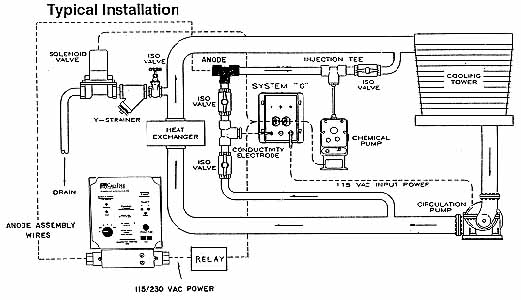 Carefree Clearwater Electrolytic Ion Generators are used throughout the world to prevent algae, slime, Legionella and bacterial growth in cooling towers. The HVAC industry is looking for alternatives to traditional biocides that are more economical, automated, safer and more effective. With more and more government restriction on toxic waste effluents and other related concerns with handling, dosing and corrosion problems associated with chemcial biocides, our alternative systems are finding widespread use. With over 15 million cooling towers in the USA alone, this market is expanding rapidly. Installations on office buildings, major department store chains, telephone companies, hospitals etc. have been incredibly successful. Call 1-800-364-5710 or email Sales@CarefreeClearwater.com for more information.
Benefits Include
Metal ions maintain a stable sanitizing residual insuring protection during intermittent periods of operation
Higher temperatures actually demonstrate more effective kill rates
Metal ions are very effective in eradicating Legionella pneumophila and other chlorine resistant microorganisms
Stable water and ease of maintenance
Simple operation, reliable and trouble free solid state equipment
Lifetime warranty program
United States Environmental Protection Agency Est. #59047-GA-001
Waterproof UL Approved Enclosure and NSF Listed Ion Chamber Components
NSF Standard 50 & UL 1081 compliance for public and commercial installations

Decorative Fountains
Ionization is the best suited water treatment technology for decorative fountains for several reasons:
Automatically Sanitizes Fountain without daily dosing and handling of chemicals.
Works to Prevent Algae and Frequent Fountain Maintenance
The Ion Level will Hold for Long Periods of time while chlorine begins to dissipate immediately.
Energy Efficient - Costs almost nothing to operate the low power ion generators.
Saves Time on Maintenance.
pH Neutral. Will not effect water balance. Non-Corrosive.
But perhaps one of the most significant factors is that plants can thrive in the water mist from ionized systems while chlorinated spray will destroy them. In addition, water sufficiently chlorinated to prevent algae is going to be corrosive and etch the fountain surfaces and equipment. Consequently, the operating cost differences between chlorine and ionization are significant.
Considering plant/flower replacement costs, premature deterioration of fountain and equipment, and the cost of chlorine chemicals, fountain operators can expect significant savings on maintenance budgets. The equipment payback period is often less than one year.
Commercial Pools & Spas
With thousands of successful installations in pools around the world, Carefree Clearwater Ion Systems are the choice for YMCAs, hotels, communities, governments fountains and private pools. Concerns over chlorine resistant bacteria (E. Coli, Legionella etc.) have pool operators installing our systems.
Additional benefits include economic chemical savings in excess of 50%, lowering of noxious odor indoors, corrosion prevention and better water quality are just a few of the results using the Carefree Clearwater systems. Call 1-800-364-5710 or email Sales@CarefreeClearwater.com for more information.
To see a partial list of Installations Click Here