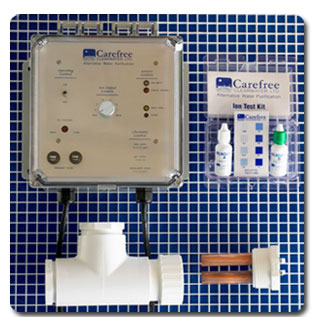 Another form of water treatment is by ionization. This unit introduces a low concentration of ions into pool water that neutralizes any disease-causing microorganisms."

Popular Mechanics · April 1995
---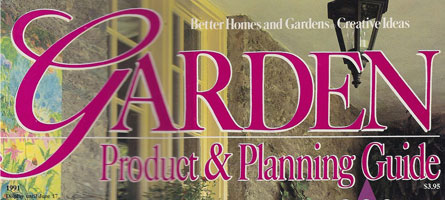 ---

See What NASA Says After 20+ Years of Success in the Field
WATER TREATMENT SYSTEMS MAKE A BIG SPLASH
ORIGINATING TECHNOLOGY/ NASA CONTRIBUTION
In the 1960s, NASA's Manned Space Center (now known as Johnson Space Center) and the Garrett Corporation, Air Research Division, conducted a research program to develop a small, lightweight water purifier for the Apollo spacecraft that would require minimal power and would not need to be monitored around-the-clock by astronauts in orbit. The 9-ounce purifier, slightly larger than a cigarette pack and completely chlorine-free, dispensed silver ions into the spacecraft's water supply to successfully kill off bacteria. A NASA Technical Brief released around the time of the research reported that the silver ions did not "impart an unpleasant taste to the water."
NASA's ingenuity to control microbial contamination in space caught on quickly, opening the doors for safer methods of controlling water pollutants on Earth.
PARTNERSHIP
Carefree Clearwater, Ltd., of Cornelia, Georgia, obtained NASA's permission to manufacture a modified version of the Space Agency's patented Electrolytic Silver Ion Cell for numerous commercial and industrial applications, including swimming pools, hot water spas, decorative fountains, ponds, manufacturing processes, and evaporative water cooling towers.
PRODUCT OUTCOME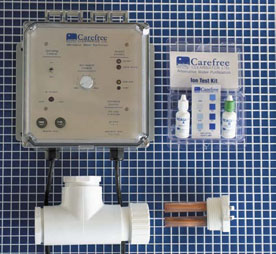 Using NASA technology, Carefree Clearwater, Ltd.'s automatic purification systems electronically release copper and silver ions into the water to destroy bacteria and algae.
The Carefree Clearwater systems based on NASA's Apollo-era technology electronically release copper and silver ions into the water to destroy bacteria and algae—which are then filtered out. Unlike chlorine, the ions do not dissipate from heat and sunlight, therefore they are capable of providing a very stable sanitizer residual. The ionization technology substantially reduces the demand for chlorine so that fewer chloramines are formed and fewer chemicals are consumed. This cuts down on undesirable side effects realized in swimming pool environments, such as burning eyes, odor, and bleached or dry skin and hair. Furthermore, the ions pose no health risks, as scientists contend that chlorine can react chemically with organic materials in water to form a class of carcinogenic substances called trihalomethanes.
Numerous independent laboratory tests from NASA, health departments, and universities, and many years of field testing have confirmed the exceptional sanitizing ability of copper/silver ionization. Studies further show that using a combination of copper and silver can be effective against E. coli, Pseudomonas, Legionella Pneumophila (Legionnaires' disease), Staphylococcus, Streptococcus, Salmonella, and other pathogens—some of which have proven to be resilient even to high levels of chlorine.
Carefree Clearwater's automatic water purification ionizers employ a safe, low direct current, like that of several common household batteries, that passes through a set of copper and silver alloy electrodes. As the water supply traverses the ionizers' sealed chamber, metallic ions are generated to purify the water. When these ions encounter bacteria and algae, they destroy them through an alteration in their enzyme processes. All of the charged particles then flock together, only to be pulled out by a filter. The ions uphold a stable sanitizer residual until they are completely used up by this process.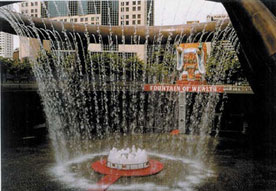 The Fountain of Wealth in Suntec City, Singapore — the largest decorative fountain in the world — employs a Carefree Clearwater purifier system
The company markets several water purification products, including the Model 1200 State-of-the-Art Commercial Rated Electrolytic Ionizer and the Model 1100 Automatic Purification System. The Model 1200, which purifies 15,000 to 45,000 gallon swimming pools, features a rugged and durable design to protect its solid-state electronics from moisture, corrosion, and harsh environments; simple operating controls; light-emitting diode displays for power, polarity, and anode status; self-cleaning anode design; and an ion test kit. Variations of the Model 1200 are available for even larger swimming pools that range from 45,000 to 125,000 gallons. The Model 1100 offers many of the same features of the Model 1200, but at a lower price, since it is designed to purify spas and swimming pools up to 25,000 gallons.
Carefree Clearwater asserts that its commercial purifier quickly pays for itself by eliminating the need to spend thousands on chemical sanitizers, algaecides, and clarifiers. Operating costs for the ion generator's electrical consumption average less than 25 cents per month. Periodically oxidizing the water to break down organic contaminants from rain, wind, body oils, and leaf debris and maintaining a low halogen level and a normal pH balance are all that are needed when a Carefree Clearwater purifier is installed. Savings are also realized with a Carefree Clearwater purifier by eliminating bleaching and other damage to hair, swimsuits, pool equipment, and nearby plants and flowers. In addition, consumers save time, as daily testing and chemical handling are not required with a Carefree Clearwater product.
The company's purification systems have been installed in thousands of residential and resort pools and spas, YMCA facilities throughout the country, and at many major university indoor/outdoor pools, including the University of Virginia, the University of Texas and Purdue University. Decorative fountains at Disney World, the Centers for Disease Control and Prevention in Atlanta, the John F. Kennedy Center for the Performing Arts in Washington, DC, and Kellogg's Cereal City in Battle Creek, Michigan, are kept sanitized with Carefree Clearwater purifiers, not to mention the largest decorative fountain in the world, the Fountain of Wealth in Suntec City, Singapore. Furthermore, the Cincinnati Zoo is tapping the technology for its sea lion tank, walrus pool, and arctic bird exhibit; Zoo Atlanta is utilizing it for its tiger and hoof stock exhibits; and Alligator Adventure in North Myrtle Beach, South Carolina, is employing it in its habitat for UTAN, the largest crocodile ever to be exhibited in the United States.
Outside of recreational use, the electrolytic ionizer has proven to be invaluable for industry, especially in the areas of heating, venting, and air conditioning, and where cooling towers are relied upon to remove heat from a stored water source so that the water can be recirculated and reused or safely discharged to a natural body of water, like a river. Currently, there are more than 15 million cooling towers in the United States alone. This number will continue to increase significantly with the construction of new commercial and industrial facilities.
Water is the most commonly used coolant medium, and an open recirculating system is the most common type of equipment for a cooling tower Compared with other coolants, water is plentiful and inexpensive, and can carry large volumes of heat without considerable expansion or contraction. On the other hand, water can create major problems. Algae and microbiological contamination in the cooling system can lead to troubles ranging from bacterial buildup and Legionnaires' disease, to costly, extended downtime for cooling system repairs and the premature deterioration of expensive capital equipment. The National Oceanic and Atmospheric Administration, the Stamford Plaza Hotel in Auckland, New Zealand, and the Wallops Flight Facility in Virginia are a sampling of the various entities using Carefree Clearwater products to purify their cooling towers and prevent potential contamination and breakdowns.
The list of applications and benefits from this NASA-derived technology continues to grow daily, validating Carefree Clearwater's mission to establish a solid foundation and a strong future for electronic water purification
---
Customer Testimonials
---
Something I have never done before
As the title states, I have never ever written a manufacturer to let them know how absolutely fantastic their product is. The first year I waited to be disappointed, it never happened I was completely satisfied. The second year we were so busy using the pool that I forgot to write this letter. Now into the third year I have to let you know, that your product has made a world of difference in our lives. My son has severe Asthma, and could not spend more than 10 minutes in our pool prior to installing your system
He would suffer an Asthma attack shortly after swimming do to the Chlorine, so we had to keep him out. Thanks to your system, our last pool party he was in the pool for 9 hours, with no problems. We cannot Thank You enough, it has made a world of difference in our lives. Any Parent whose child suffers from Asthma should read up on the studies done about Chlorine and the hazards it creates for Asthma sufferers. It's the best money I have ever spent, knowing my son does not have to suffer and that he can enjoy life like other kids. With our Deepest Gratitude,
The Rose Family - CA
---
March 22nd 2007 We bought a model 1200-R water purifier (have a 30,000 gallon pool) 5 years ago, and absolutely love it - performance could not be better! We use chlorine-free shock and keep the water balanced, and there's never been anything less than perfectly clear water. Your performance matches your claims!
Earl McFerrin - NC
---
July 29th, 2002 email: We began using your system last spring after having a horrible bout with yellow algae the previous summer. We had used Baquacil for years, but the summer of 2000 almost broke the bank! I bet I spent well over $1500 in chemicals that year, and still the problem persisted. Well, I'm here to tell you that your system works just as advertised! I shock weekly with non-chlorine shock and keep the water balanced; your ionizer does the rest. We've had no algae, cloudy water, or other problems since putting in the ionizer, and I'm telling all my friends & neighbors who have pools about your wonderful system. It's paid for itself in just over a year! Thanks for a great product!
Earl McFerrin - NC
---
Ownership of our pool is now a pleasure and not a nightmare as it was before. No more pink algae, water mold, nothing but sparkling clear water. In fact it is so clear, that I have had friends come over to swim and their first comment was how beautiful and sparkling the pool water was. They even commented that they had never seen anybody's pool look so inviting. I would estimate that our money savings since switching over to your system has been about $450.00 to $550.00 not to mention the man-hours saved in keeping the pool up. Their comments about our pool really made us feel real good and we cannot thank the people at Carefree Clearwater enough.
William K. Hoshall, NC
---
Pool ownership has changed from a vicious expensive nightmare to a luxurious experience. With my Carefree Clearwater ionizer, I've bypassed the pink algae that was present all summer in this area of the country. Our water today is so perfect and clear I often forget to check the PH and TA. When the water is extensively tested, no algae of any kind are present! Not once, Only sparkling clear, perfectly balanced water. I would conservatively estimate a savings in excess of $500.00 in pool chemicals this year alone.
As with any new system, there are lots of technical questions to be asked and answered. You and your staff have provided timely, knowledgeable, courteous assistance to make this transition effortless. In this age where customer satisfaction is a thing of the past, I've always felt help was a phone call away. Even when we took a hit by lighting, the quick blow fuse in the control panel saved the system ($.25 for a new fuse, and we were back in business).
The ionizer transformed our pool into an asset --not a liability. No more stockpiling expensive chemicals in the basement, no days in the sun with contaminated water. Just lots of fun and relaxation. My only regret is not knowing the benefits of the ionizer when my pool was constructed. Unfortunately, the ionizer will not extend the pool season, so on this day of pool closing, I say thank you Mr. Safier and Carefree Clearwater.
Joe Grasshorn, FL
---
I purchased one of your systems in May 1999. All I can say is WOW! I wish I had known about your system when I installed my pool eight years ago. It is a 21 x 41 oval vinyl liner with a hopper bottom. It holds 30,000 gals of water. For the first six years we used baquacil. The last summer I used baquacil we spent over $600 just trying to keep the water clear. When I first installed the ion generator, I had a hard time getting rid of all of the baquacil. After that I just used 4 chlorine tablets a week and the pool water stayed crystal clear. When I opened the pool the first of May this year, I vacuumed it twice, shocked it twice and started up the generator. This was the easiest and quickest I have ever opened the pool and got the water clear. I probably spent $200 last year getting rid of the baquacil. This year I have spent $30.00 to date. Everybody that I talk to about pools say "You use what?" My wife did not believe it would work at first. She is now a believer. This is one of the best investments I have made. If you have anybody in the area that would like to stop by and see our pool and talk with us, I would be glad to show them our pool. Thanks so much for your wonderful product.
Robert A. Bishop, MD
---
Thank you for the prompt and courteous service. We installed our ionizer last June and were amazed at how much clearer our pool looked overnight! We've been pool owner since 1996. The first three years we used Softswim products. We spent a lot of money on chemicals, yet our pool turned green several times over the summer. We dreaded opening it again! Then we saw your ad on the Internet. We hardly dared believe it was true, but didn't want to have to keep running to the pool supply store for another summer. (My sons suggested filling the pool in with dirt.) We decided to give the ionizer a chance. Last summer was the best summer we've had as pool owners. Our pool never turned green and looked beautiful all summer. In fact, we kept it open late into fall. We maintained it using a jar of test strips we purchased at the pool supply store and a few chemicals (mostly Clorox) from Wal-Mart! Wow! No algae, no water mold, no scummy feeling from chemicals after swimming! We are recommending ionizers to anyone we know who has a pool. Thanks again!
Mike and Karen Foreman,WV
---
I am writing this letter to inform you that I have been greatly satisfied by the performance of your ionizer (Model 1100). Its performance was very reliable and a lot of different chemicals I was dumping into my pool became unnecessary and my yearly struggle to control algae in my pool practicallly disappeared. I also want to thank you for your clear explanation and answers to my questions and inquiries bought to you several times.
Ernest D. Park, AL
---
It is a pleasure for me to tell you how much we enjoy our pool since having your ionization system installed in the summer of 1988. What a joy it is to swim in a pool without chlorine and all the other chemicals - algicide, cyanuric acid, etc. I have also received comments from friends about the lack of the chlorine smell. Other than increased swimmer satisfaction, it has saved me money and decreased my maintenance time. Compared to the high cost of chlorine, all I spend now is a few dollars in electricity cost. As for a pool owner this is the finest investment I could make for my pool. I only wish we had known about your system earlier.
Mike & Nancy Brannon, GA
---
I have been well pleased with the performance of the Carefree Clearwater ionization unit since installing it on my pool over two years ago. The unit has completely automated the necessary steps involved in keeping the pool safe and sanitized and the pH balance rarely changes since the unit was installed. As you know, I was having problems keeping the pool in balance before the unit was installed and it took a lot of time and effort to keep the pool balanced and sanitized on a daily basis. Now, thanks to the Carefree Clearwater unit, I rarely have to do anything to it. I am extremely pleased with the results I have had with the Carefree Clearwater ionization unit and with the amount of money saved by not buying chemicals. Because of these savings, the unit will soon have paid for itself.
Jerry Sanders, GA
---
I have had my pool for 8 years and really never had enjoyed it until this year. In May of 1988 we had an ionization unit installed in our swimming pool. The results have been outstanding. I had previously been to two swimming pool companys with pool water problems. After countless trips with water samples to the companies, they had several solutions. I tried everything they recommended and the results were:

1) A pool full of algae.
2) Water so cloudy or murky you couldn't see anything.
3) The water had so many chemicals you couldn't use it.

I had just about decided to give my pool to the nearest farm to use as a watering trough. But Mr. Matheny asked me to try one more time by using the ionization system. I have not regretted the decision. My water is clear, free of algae and chemicals, and now I am enjoying my pool for what it was intended. All the daily testing and mixing of chemicals have been eliminated. I recommend the ionization unit without reservation for anyone who wants to enjoy their pool for what it was intended.
Carolyn Seafler, WV
---
I wanted to take this opportunity to let you know how pleased we are with your Ion-Generator equipment line. The unit I placed on my pool has performed just as you stated it would, in fact, last summer was the first summer I remember not ever having to treat my pool for algae. We have sold several of these units and to date every customer has been 100% satisfied with the product. Your excellent training courses and attention to our needs makes the product easy to sell. We look forward to doing more business with Carefree Clearwater in the future.
Jeff Miller, GA
---
The YMCA has been helped tremendously by the installation of the Carefree Clearwater purification systems in our two indoor swimming pools and whirlpool. Water quality is greatly improved and the old "chlorine" smell is gone. Over a thousand people a day use our pools, and they are happy swimmers now. In addition, in the first six months of this year we have saved over $4,000 in the cost of pool chemicals. Next to the water in our pools, Carefree Clearwater is the greatest thing we have. Thanks for being there when we needed you.
J. Robert Sheppard, NJ
---
Our two pools are among the busiest indoor pools in the country, with over 1,000 men, women and children using them each day. Maintaining appropriate pool chemistry had become very difficult until we began using the Carefree Clearwater System. The improvement in the water quality is dramatic, as is the comfort level of our swimmers. Many have commented on how delightful it is to swim without overpowering chlorine. Your innovative product may just revolutionize the pool business.
Ann L. Swenson, NJ
---
As you know the traditional chemical system that was used in the YMCA-YMCA pools had caused our swimmers considerable breathing problems. We have national caliber swimmers and it is important for them to train very hard which means swimming up to seven thousand yards per session. Many times we had to stop our training sessions after three thousand yards due to upper respiratory problems which showed up in the form of persistent coughing. This is not an uncommon problem but one that is plaguing swimming programs across the country.
Since Roy Verstraete installed the "Carefree Clearwater" system we have yet to experience any type of related breathing problems. We have several swimmers who have EIA syndrome, or Exercise Induced Asthma, and they have experienced a significant improvement in their breathing and swim training. Other advantages of the "Carefree Clearwater" system are the elimination of hair discoloration and hair damage, and eye irritation caused by the traditional chlorine system. Also, the swimmers have expressed that their suits, goggles, and latex swim caps are showing a longer life.
As a swimming coach, I feel secure in the fact that our swimmers can swim in an ionized pool and not experience many of the various problems that are associated with a chlorine treated pool. I highly recommend this system for any pool whether it be used for competitive or recreational purposes.
Criag Panzano, NJ
---
It's been 7 months since I installed the ionizer at my home in San Diego. This thing is the greatest piece of equipment I have ever owned. Throughout this winter, the pool has stayed perfectly clear without any chlorine or any shock (and I do mean perfectly clear). The ions remain totally stable without any adjustment (i.e., I don't have to adjust for temperature or anything else).
Dr. Perlman – San Diego, CA
---
I have been using my current unit for 10 years and it has been absolutely wonderful and has saved me untold dollars on pool maintenance. Almost without exception, visitors always comment how clear and sparkling my pool water appears. My pool will be in service twenty years this coming January 2006 and needless to say the first ten years of maintenance was a nightmare compared to the last ten years with your Model 1100 installed.
Jerry Cunningham Abilene, TX
---
I installed a Model 1200 ionizer this past spring for my 16 X 32 vinyl in ground pool. That was absolutely, without question the best and smartest thing I have ever done for my pool in the 18 years I have owned it. I had only used Baquacil until this year, and every year I was constantly fighting green algae from about the first week of July until the end of the season. This year with the ionizer, not one speck of algae, and perfectly crystal clear water every day.
Donald Lassiter Aulander, NC
---
I am writing to tell you how much more enjoyable our pool has become since installing your Model 1200-R ionizer. In 2003, we were using Baquacil products and had a nightmare of a season. Now we only have memories of black water mold, white clumps of algae and a nightmare of a season. Since installing your ionizer, our pool water has been perfect. It has been crystal clear all summer – clearer than it had ever been using Baquacil or chlorine. No odor is present whatsoever and the water has been silky. I don't know how else to describe it. Your product is wonderful – better than I ever imagined! Thank you for improving our pool owning experience one hundred percent.
Jeffrey Neal Gelfon Roxbury, VT
---
I just wanted to give you some feed back on the 1100 Ion system I purchased a few months ago. I had my pool refinished and started using it. All I can say is that I love it, my wife loves it and everyone I know I've been talking to about it is interested in it. My wife loves the no chlorine smell, no tight skin after coming out of the water, no chlorine to play with, no burning eyes. The water is crystal clear. I have a DE filter and run it 8 hours at the 10% level and it seems to be perfect. I have two friends who use the salt system and the other uses the Baquacil system. They are not happy and are asking me how much I like what I have now. Yesterday, I had an A/C repairman over to balance the new A/C system in the house and we were talking about the chlorine in the pool and about his wife's colored hair and the effect the chlorine has upon her hair color,(taking out the color and expense or having it redone), he was very interested. One last sentence about your product - I love it, and I like the fact no more money being wasted on chlorine or the smell. Thanks again for a great product.
Rich Boothby Spring Hill, Florida
---
We just love the ionizer and the ease of care our pool has become!
Louise Biggie Castine, ME
---
My Carefree Clearwater system is one of the best products I have ever owned. American Technology, American Made. It's the only way to go. Thanks!
John Hassell NC
---
We are so pleased with the Carefree Clearwater System installed in our Church Baptismal Fountain. It has operated totally trouble-free for seven years. We clean the electrode annually, the only maintenance required. I would be happy to recommend the system without reservation.
Lou Mihaly - Ohio
---
I am one of your extremely satisfied customers! I've only replaced the electrode twice in over 14 years... (Unbelievable, I know, especially since it's installed on an 'indoor' pool that's used year round).
John Santini Jr. - MI
---
After owning an in-ground pool for over 30 years I finally found a product that is everything and more then it is advertised as being!
Over the last 30 years I tried all the Chlorine and Baquacil products they had on the market only to spend a lot of money ($400.00 to in some years $900.00 a year) and time to have a pool that never was right or looked good.
I was at the point of HATING THIS POOL!
Every day it was another problem to take care of, I would wait to the very last minute to open it in the summer and only after my wife, children and grandchildren would hound me so much that I would have to open it. I would personally never even get in it anymore.
Last year we thought, we would try one of the products all the pool chemical stores and pool installers call SNAKE OIL, a product they say will never work.
I talked to some of the very few people I know and trusted, that used this product, or a product that was based the same technology.
The product I decided to try was CAREFREE CLEARWATER.
This product turned out to be the very best product I have ever used in the 30 years I owned a pool. I can not put into words how pleased and excited I am about the Carefree Clearwater Copper /Silver ion system I bought.
After getting the water balanced the way they recommend I started the unit up, within 2 days the ions were at the recommended range and the water looked better than it ever did.
I tested the water every day for the first 2 weeks and was amazed how it would always be right in the perfect recommended ranges.
After the first 2 weeks I only tested the PH 2 times a week and the ions, total alkalinity and Calcium Hardness 1 time every 2 weeks, THIS IS GREAT!
Instead of all the expensive pool chemicals I was using for the past 30 years this pool is now maintained on cheap hardware or grocery store products like Baking Soda, Muriatic Acid to adjust PH if and when needed and the cheapest household bleach you can find to shock the pool once every week or two.
Now instead of this pool being a tiring chore and nothing but work for me, I LOVE IT! Last year after the first 2 weeks I was in it every day with my wife, children and grandchildren and loving it.
I did not want to write a review on this until I opened the pool this year, just to see what it looked like when I opened it. To my surprise and great delight when I took the winter cover off it looked just like it did when I closed it in the fall of last year. This pool never in the 30 years of owning it looked this good in the spring when it was opened.
On top of how good it looked, to my surprise, when I checked the pool water balance it was just the way it was when it was closed up last fall. PH 7.4, Total Alkalinity 90, Ions 0.3 ppm, Calcium Hardness 190, ALL PERFECT!!
I can not believe how for 30 years I listened to pool product supply houses and builders that this process is no good and all the money and time I spent working on a pool that never was right or looked anything like what I have now.
This was a very long review and I could not put into words how pleased I am with the Carefree Clearwater Ion system.
Steve Aughenbaugh, PA
---